Over the past year, I've been collecting different pieces of furniture & items, that are now collecting dust (basically) in the garage but I would like to makeover!!

First: I wanted to make sure I had fully educated myself on the techniques, tricks and ways of painting or spray painting to get the best results. All Things Thrifty, is one blog that offers plenty of information for this kind of project.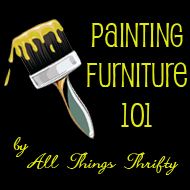 (Click on the icon, for more information.)


Second: Now I need to decide what room the mirror will be going into so that I can pick the perfect color to coordinate.

Third: Get busy and start spray painting, I'll keep you posted on this project.
This Mirror I got from my MIL and will be the first on
my Project Makeover list.
I Google some ideas and look at how fantastic these turned out.
I'll post the rest of the furniture pieces as I work on them :-)